Music is a massive part of my life, I love nothing more than sticking on a good album and heading out for a run. Since watching Liam Gallagher's As it was at the cinema, the classic Definitely Maybe album has been played on heavy repeat on my runs. As much as I love to lose myself in music, I also like to be aware of my surroundings. I run mainly on country roads, so, for safety reasons, I need to be able to hear what is going on around me.
This is why I the love AfterShokz brand. Their bone conduction technology leaves your ears open whilst allowing you to listen to your tunes of choice. I'm already a huge fan of the Trekz Air so I was excited to receive their latest release – the AfterShokz Aeropex.
The Aeropex is 30% smaller in size and 15% lighter than the already weightless Trekz Air headphones.

The Aeropex has a waterproof rating of IP67 meaning they are waterproof for up to 1 meter of water for 30 min.

They promise a better sound quality with 50% less leakage which is great if you don't want everyone around you hearing your embarrassing playlist.

The headphones sit at a 30-degree tilt against your face to reduce unwanted vibrations and have PremiumPitch 2+™ technology to optimise the sound.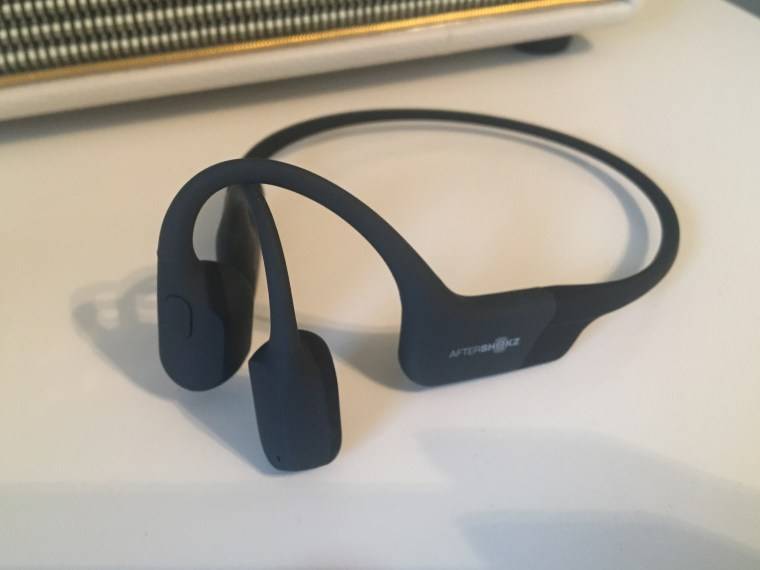 A pair of headphones – I was kindly sent the Cosmic Black pair.

A handy case so you can store your headphones and chargers together.
First things first – charge them up! It takes 2 hours to fully charge them and this gives you an 8 hour usage time which means I can easily make it through training Monday to Friday without having to recharge them.
The first notable improvement on the Aeropex is the charging port. The charger connects with magnetic force rather than have the fiddly lift up flap the Trekz Air had.
Set up couldn't be any easier – you simply press and hold the power button for 5 seconds to connect the Bluetooth and then select the headphones from the Bluetooth list on your music device.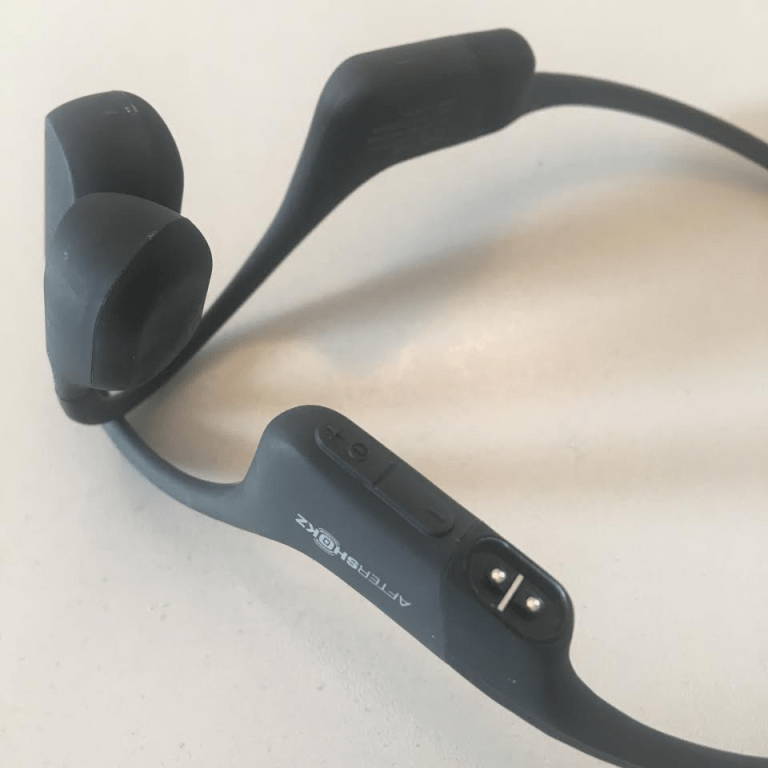 As with the Trekz Air, they sit snuggly around your ear rather than actually going in them, which I find far more comfortable. The Aeropex do come in at 4 grams lighter than the Trekz Air although I haven't noticed any significant weight difference when wearing them. Both models are really lightweight and stay put during a run without any movement.
With the Aeropex the part that sits on your cheekbones has been reduced in size and they seem more discreet to wear. I do prefer the new rectangular shaped design as it is much sleeker and allows for fewer vibrations – great news for those bass-heavy tracks.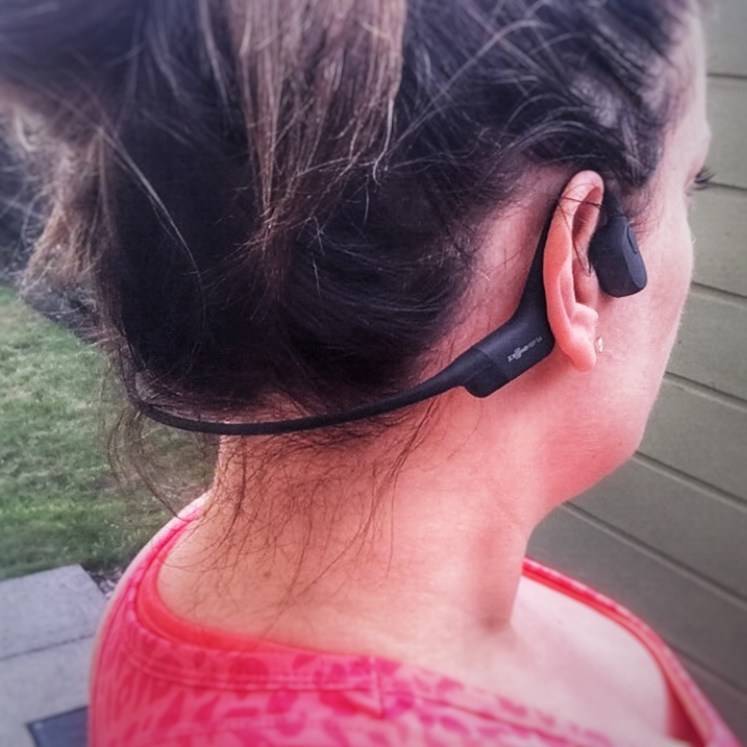 This is always going to be subjective with bone conductor headphones. Sound through bone conduction is not as clear as regular in-ear headphones because it is a different technology. Personally, I am more than happy to accept a small compromise in sound to still #beopen and hear what's going on around me.
I found the sound quality of the Trekz Air more than adequate for my uses, but there is a marked improvement with the Aeropex. The sound is richer and clearer which I tested by listening to the same song on both pairs.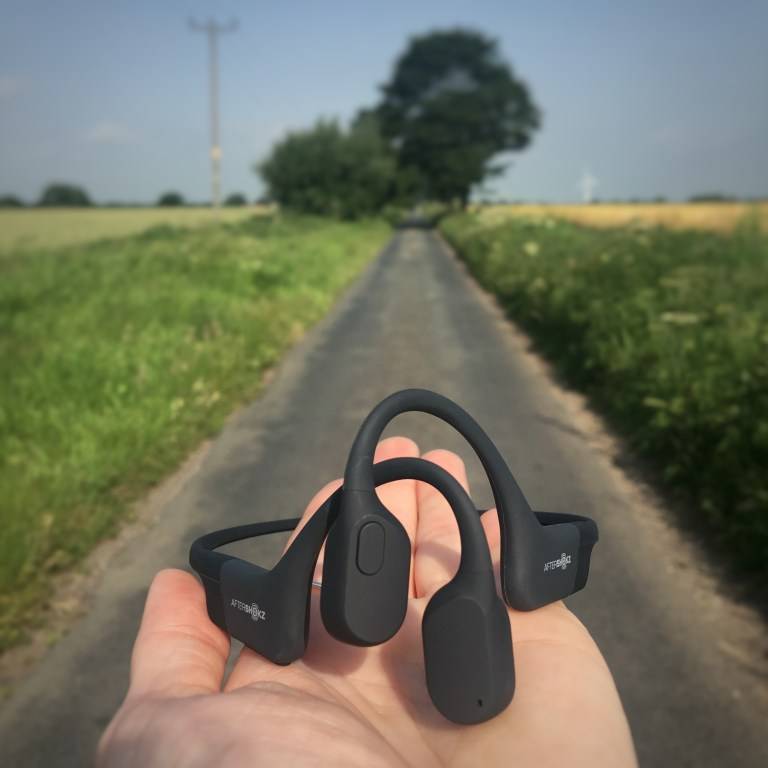 One slight issue for me is, as, with the Trekz Air, the headphone band doesn't fit flush to the back of your head. This certainly doesn't cause any problems whilst running but can get in the way when lying down to stretch afterwards. Although I"m not sure an adjustable band would be an improvement as that would make it bulkier or add extra weight.
Once again Aftershokz has come up trumps with these headphones. The Aeropex has given me improvements I didn't know I needed. I can't wait to see what they do with this technology in the future!

The AfterShokz Aeropex headphones are available and are priced at £149.95.If you would like to purchase a pair for yourself I do have a discount code, so please drop me a message if you are interested.
I was kindly sent these AfterShokz Earphones, after becoming an ambassador for the brand in May. All opinions and photographs are my own.