2020 would have been Beethoven's 250th birthday! There's so many questions around this great man and his contribution not only to music, but to science as well...
How did Beethoven become an "inventor"?
What did he invent?
How did his invention benefit the world?
To answer all those questions, we need to go back to the beginning, and answer perhaps the biggest question of them all: how could a man who was deaf write some of the most famous compositions of our time?
----------------------------------------------------------------------------
Firstly, who was Beethoven....
Ludwig van Beethoven was a German pianist and composer widely considered to be one of the greatest musical geniuses of all time. His innovative compositions combined vocals and instruments, widening the scope of music as we know it.
Beethoven's personal life was marked by a struggle against deafness, and some of his most important works were composed during the last 10 years of his life when he was quite unable to hear. He died at the age of 56.
Whilst we've enjoyed his beautiful and recognisable symphonies, it can be hard to imagine that such a talent endured such hardship from a young age.
Beethoven was born into a musical family and began lessons as soon as he could walk. His Father inflicted cruelty on the young boy, with neighbors providing accounts of a young Beethoven weeping while he played the clavier, standing atop a footstool to reach the keys, his father beating him for each hesitation or mistake.
It is said that Beethoven showed a musical talent far beyond ordinary people when he was a child, and as such, was a prodigy who held his own concert at the tender age of eight years old.
By 15, he as employed by the Court as Assistant Court Organist. He worshipped the music master Wolfgang Mozart as a teacher and by 22, he was emerged in teaching, performance and music composition in Vienna where the famous Mozart resided. There is only speculation and inconclusive evidence that Beethoven ever met with Mozart, however tradition has it that upon hearing Beethoven Mozart said,
"Keep your eyes on him; someday he will give the world something to talk about."
After years of solid hard work under the guidance and training of some of the era's most famous teachers, Beethoven gradually grew into an outstanding musician constantly creating beautiful musical masterpieces.
At the same time as Beethoven was composing some of his most immortal works, he was struggling to come to terms with a shocking and terrible fact, and one that he tried desperately to conceal: He was going deaf. One can only imagine the cruelty in a musical mind like Beethoven's to confront the awful fact that his hearing was fading.
Beethoven was so fascinated by music he decided to fight back and shot out one his most celebrated phrases: "I will choke on the throat of fate, it will never make me succumb."
Almost miraculously, despite his rapidly progressing deafness, Beethoven continued to compose at a furious pace. From 1803 to 1812, what is known as his "middle" or "heroic" period, he composed an opera, six symphonies, four solo concerti, five string quartets, six-string sonatas, seven piano sonatas, five sets of piano variations, four overtures, four trios, two sextets and 72 songs.
In pain, Beethoven did not go down. He felt that music was his life in entirety. He used great perseverance to overcome the difficulties brought to him by deafness and insisted on music creation.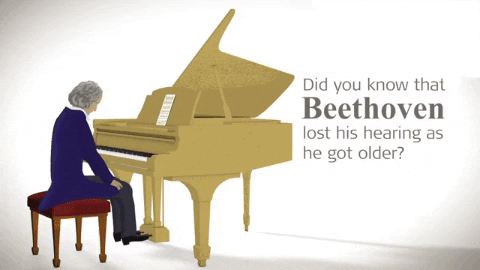 While composing, his ears could not hear, so he took a wooden stick to help him feel the music, and BONE CONDUCTION was born! By attaching a rod to his piano and clenching it in his teeth, Beethoven received perception of the sound when vibrations transfer from the piano to his jaw. This was revolutionary and perhaps one of Beethoven's 'other' famed inventions aside from his musical creations.
Referred by: https://www.youtube.com/watch?v=B_LLr7JXy9w#action=share
----------------------------------------------------------------------------
It's hard to imagine but the famous "Ninth Symphony" was actually created after Beethoven's became deaf. When Beethoven conducted his famous "Ninth Symphony" on stage, the music received intense applause from his audience. Although the applause sounded like thunder, he could not hear it. Beethoven was pulled to the front of the stage where he then saw the audience standing up, hands clapping enthusiastically, and some waving his hat to him.
Beethoven lived a full and interesting life before dying at age 56. His use of bone conduction is a founding pillar of where we are today in experiencing sound.
Bone conduction can do a lot more than you imagine. Read on to find out how...
5 BENEFITS OF BONE CONDUCTION HEADPHONES
----------------------------------------------------------------------------
You may also like:  
DO YOU KNOW HOW DIRTY YOUR HEADPHONES ARE?


In 2018, 8.4 million people in Great Britain utilized used canceling headphones. BUT... have we ever stopped to think how dirty our little friends are? A recent study found that earbuds can harbor 119,186 colony-forming units. That's a lot of bacteria...




AEROPEX: GEAR THAT MAKES LIFE AND SPORTS SAFER


Earlier this month, the STA Group announced that our latest flagship headphones - the Aeropex - have been shortlisted for the prestigious Sports Technology Award. We were in good company:  five other exceptional…




AEROPEX vs. XTRAINERZ


We know the one question on everyone's mind is, "Should I buy a pair of AfterShokz Aeropex or Xtrainerz?"If you need a pair of swimming headphones, #Xtrainerz is your first…