Hi, my name is Emily Jevons one of the ShokzStarsUK for 2019 and I'm an ex-competitive swimmer that moved to triathlon a few years ago! I've put together a few top tips for how to manage your swim training on holiday, they are quite broad as I'm hoping they will help both swimmers and triathletes! If you have any further questions e.g. what drills you could do, feel free to drop me a message on Instagram (@emilyj.tri). Here are my top 5 tips:
1. Make the most of what you've got! Only got a small hotel pool to train in while you're away? Don't stress, just change your focus! If you're a swimmer or a triathlete, use this time to forget about distance and focus on technique and drills. It can be a really good time to zone in those small changes you need to make to your technique to knock those seconds off, so why not consult with a swimming coach before you go to give you some aims?
2. Can't fit your equipment in your bag? Don't worry! Use alternatives or ask your coach to change your sessions to focusing on sets that don't need it. Some pools may have pull buoys, floats, paddles or fins you can borrow, but there are alternatives e.g.  Want to try pull? Tie your legs together with something (only recommend this if you're a strong swimmer), I've once used a hair bobble around my ankles to stop myself from kicking… it's more difficult than normal pull, but it works! if you want to practice kick, try without a float but on your back instead of your front (most competitive swimmers will already do this anyway).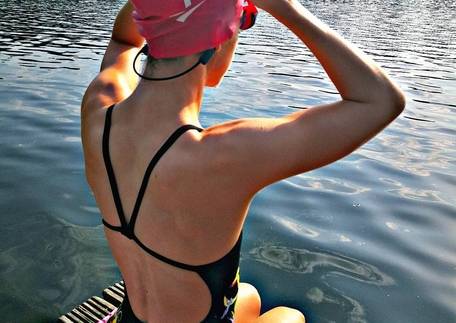 3. Take a safety buoy. If you're nervous about swimming in the sea or a lake because you're scared of getting into trouble or not being seen, take a blow up safety buoy with you. These are usually neon in colour and strap round your waist. For me it's a great reassurance knowing I can be spotted from on the beach easily!
4. Another Safety tip… If you can before you go, do some research and see if there are specific open water swimming lanes in the sea, or specific open water sessions that the locals use so that you're not on your own out there. This will make you feel more relaxed!
5.Most importantly, enjoy it! Swimming on holiday can be a great way to change up your normal training routine that you have at home. The change of scenery, the new people, changing focus! Try to be positive and make the most of the opportunity to try something new rather than missing what you have at home. Where you train at home won't have changed much for when you return, though you may never visit where you're on holiday again! So make the most of it! 
So there you have it, my top 5 tips for swimming on holiday! On a final note, if you're used to swimming with people and on holiday you'll be swimming on your own, try the new AfterShokz XTrainers, I find them really helpful for when I'm training on my own! Happy holidays everyone! #justkeepswimming