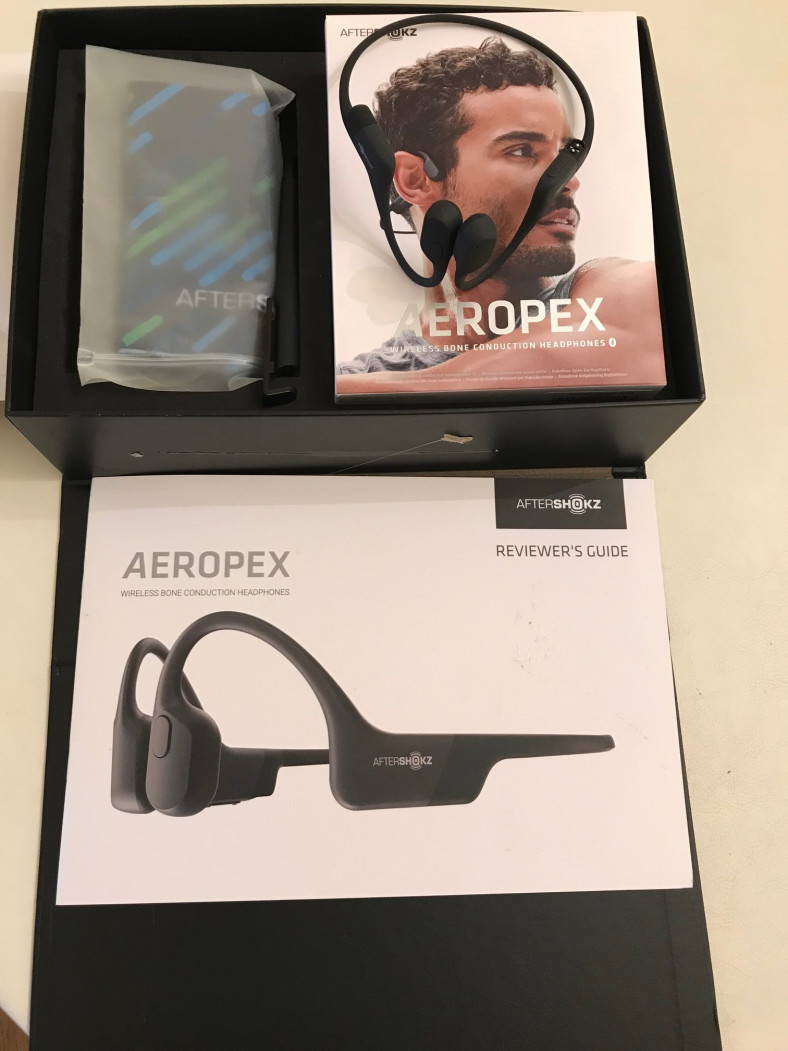 My sponsors have gifted me the new AfterShokz Aeropex Headphones to review so I have put it through its paces and here is my review.
What is the Aeropex? A Bluetooth headset and wireless, they target the sports markets and especially runners, however it is very good for the bike too. AfterShokz are leading the way in bone conduction technology, however with £149.95 they come at a cost just like other top gadgets.
What is bone conduction technology? Well there are two types of audio conduction: air conduction and bone conduction. Air conduction is the most common for headphones, however while we enjoy our music this way, we can't hear the noises that surrounds us and can become uncomfortable after a while in our ears. With bone conduction on the other hand, you don't have either of these issues. AfterShokz headphones generate miniature vibrations which travel through your cheekbones. The vibrations go directly to your inner ears (cochlea), bypassing your eardrums. Because of this, you are free to enjoy music without blocking your ears. This leaves you with awareness of your surroundings. For example if you're running you can hear everything around you. In England this is the only approved bone conduction headphones for England Athletics races.
Your heading text goes here
Below is a table of the specifications, if you're like me you're want to have a look.
Bone conduction transducer
So what new features and improvements has AfterShokz come up with for their new model?
The Aeropex seems to have much better sound quality than the Air. I think this is due to the vibration is tilted against the face at 30 degrees, allowing a more dynamic range of base and fewer vibrations. This therefore allows the vibrations in the range of the human voice a little higher which are purer, with a smooth frequency response curve. This means that the Aeropex offers much better quality than previous models.
The Aeropex is also waterproof and can be submerged in up to 1 meter of water for as long as half an hour. Which is a plus when out running and cycling and its pouring hard with rain. It feels lighter and it is. It is 30% smaller and 13% lighter than the Air headphones and weighing 26g. This is also due to the battery being smaller. However did this affect the battery life? Well no I found that I didn't need to charge this as much and due to the battery being more powerful AfterShokz claim it can last 2 hours more than their air models putting this up to 8 hours of battery and music life now.
They still feel comfy when on and stay in place when running, this is an important for me as you don't want to keep stopping midway through a run to sort them out.
So my conclusion is that AfterShokz have improved with their latest model the Aeropex. The new features make the headphones even better. If I am rating this out of 100 I am giving this 90%. I think the price maybe a little steep however if you want a good quality gadget then you're always going to pay price. They feel fine on and comfy and have an even better sound quality than normal. It is waterproof and was perfect for me to keep motivation up in my long runs and bike rides. Most of all what I like after AfterShokz products is safety, my safety like others is so important and being able to hear your surroundings while out and being safer is a win win for me.