We were excited to hear what Jason Walkley of Trivelo had to say in his independent and in-depth AfterShokz headphones review. After a 6-week test he highly rated AfterShokz cycling and running headphones! Read on for his in-depth review of the AfterShokz groundbreaking Aeropex headphones and how they compared with his previous review of the AfterShokz Titanium.
When these arrived from the guys at AfterShokz I was really quite excited to try them out mainly because I had never tried the 'bone conduction' type of headphone. (You can check out the related blog: 3 BENEFIT TO BONE CONDUCTION) These are marketed on the concept that you can do your training (whatever that may be) whilst listening to music and at the same time have awareness of your surroundings. Surely a winner for those who run or cycle with music and who want to hear the potential dangers around you. Without further ado, let's jump straight into the unboxing and find out!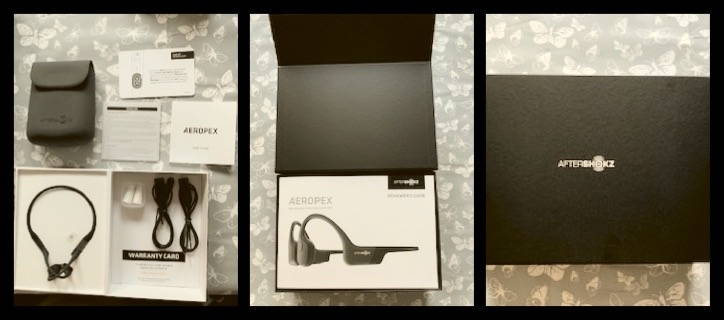 The box is approximately A4 in size, so it's massive, just for some headphones. However, it sets the scene for what is coming up once opened. Upon opening I was greeted with a reviewer's guide booklet, a pen, black envelope, bag with the words 'multifunctional headwear' on and another box with the Aeropex branding on.

The multifunctional headwear bag is actually a neck/head 'buff'. I love a good buff and it is a good buff. Something I use in the winter for my running and cycling.
The black envelope is a 'Welcome to the world of Aeropex' note from the team at AfterShokzUK. Nice touch. On to the headphone box, opening that up you get the following items:
1 – Rubber protective case
2 – Instruction manuals, quick start card, and warranty card
3 – Two magnetic USB charging cables
4 – Foam earplugs
5 – Headphones 
A fair bit of stuff inside the big black box, hence the size. An excellent unboxing experience and it really oozes quality and attention to detail. Great start!
Aftershokz Aeropex: Technical Specifications
• Bone conduction technology delivers music through your cheekbones, ensuring ears remain completely open to hear ambient sounds.
• Lightest bone conduction headphones to-date, weighing less than 1 ounce (26g).
• 8-hour battery life for music, calls, audiobooks, and podcasts, or 10 days of standby time.
• Complete wraparound titanium design provides a flexible fit for unnoticeable all-day comfort and stability.
• Fully waterproof (IP67 rated) to welcome intense workouts and extreme weather conditions.
• Bluetooth v5.0 offers reliable connectivity for up to 33 ft (10m).
• PremiumPitch 2.0+ delivers the wide dynamic stereo sound, louder higher volume and less sound leakage.
• Re-angled transducers with significantly reduced vibration with enhanced sound quality.
• OpenFit™ design ensures maximum situational awareness and comfort during long-term wear.
• Dual noise-canceling mics minimize surrounding noise, effectively enhancing speech for the call recipient.
• Charge fully in 2 hours with a magnetic charging cable. Moisture detection alert included for safe charging.
• Audrey Says™ voice prompts guide users through power, pair, play and talk.
• Hassle-free 2-year warranty included.
Charging the headphones
 Hooking them up to charge is quick and simple. The charging cable is USB so it can be attached to any plug, computer or device with a USB socket. The end that actually attaches to the headphones is magnetic and simply 'snaps' into place on the underside of the right-hand side control unit.
AfterShokz supplies you with two charging cables. Which is handy as I have one at work and one at home. Meaning I shouldn't ever be caught short with a flat battery. Easy peasy.
 A full charge takes only 1.5 hours.
A redlight shows they are charging which turn blue when fully charged. AfterShokz says you should get around 8 hours of playback from a full charge. More on that later!
They also have an in-built moisture detection safety mechanism. If you try and charge them when they are wet, you get an audible warning and they won't charge. I think this is a great idea as I have destroyed many a pair of headphones with water ingress at the charging port.
The charging point isn't covered in any way though. Only time will tell if this creates an issue with charging or not later in life. Although being fully waterproof and magnetic should mean they will be super reliable in the charging department.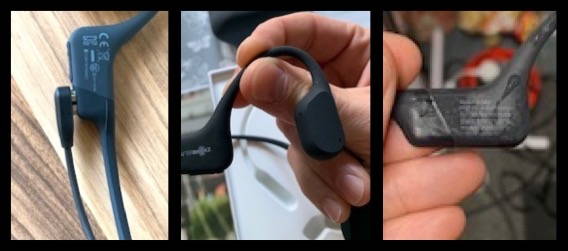 So far, I have carried out 12 full charges over the 6 weeks of ownership. I have had a couple of weeks where I haven't used them much but other weeks where I have used them for 4-5 hours a day.
First Charge results
8 periods ranging from 30 – 90mins of usage. This lead to 9 hours on the dot until I had the voice assistant tell me I needed to charge them.
She repeated these a further two times. Three warnings in total over a period of 10 minutes before they performed an auto shut down.
Second to Twelfth charge results.
Each time the battery life has been consistent between 8:45-9 hours between charges. I have used them over long periods 4 to 5 hours in a single go. Also, several shorter periods of 10 mins to 1 hour at a time and there doesn't seem to be any difference in battery life from the different types of use.
You can also check the battery status by pressing the volume down button when the headphones aren't kicking out any sound. The voice assistant lets you know:
1 - Fully charged
2 - Halfway
3 - Low charge
4 - 3 x recharge required (Final 10 minutes before auto shutdown) 
9 hours is a good level battery life for Bluetooth headphones in my opinion. Yes, we would all love tons of battery life but in reality, we are kind of limited. 9-hour battery life will be fine for all but any long ultra-marathons.
The comfort of the Bone Conduction Headphones
These headphones sit comfortably over the ears and have a solid band that passes around the back of your head as you can see on the photos. They are super light with a claimed weight of 26g. 
 Aside from a small amount of pressure at the headphone pods they are barely noticeable. They feel secure and they don't budge when jumping around and shaking my head in a vigorous manner.
One thing I have found with other types of headphones with a band around the rear is that the band makes the headphones 'bounce' up and down whilst running. No such issue with the Aeropex. They stay put and again you barely notice them when running or cycling.
Depending on what kind of helmet you wear when riding your bike, depends on how they sit. Helmets with low rear ends or TT pointy reared helmets push the band down slightly. This, in turn, could adjust where the pods sit on your temple. No great shakes but worth noting.
These are not adjustable. So those with either larger or smaller heads than me may have a different fitness experience. 
The Aeropex has three buttons:
Volume up/power on/off/Enter pairing mode

Volume down/Battery check

Play/Skip/pause (Power button) 
The volume up & down buttons are on the right-hand side and sit behind the ear. The play/skip/pause button is on the left-hand side on the pod itself. My initial thoughts on these buttons were that I was trying to press the play/pause button too hard. It took me a few days to find the balance of how hard to press it in quick succession to skip tracks.
Turns out that you really don't need a great deal of pressure at all. It is almost just a light tap. The power on/off/volume buttons were initially tricky to locate but the more I use the headphones the easier it gets to find the buttons whilst exercising.

After a period of familiarisation, the buttons have a solid feel to them. They should certainly last as long as the rest of the product. Which is often the first failing point of headphones. They are easy to use once you are used to the commands and how to go about pressing them. 
Sound Quality of the headphones
AfterShokz claims they have created a more bassy sound with less vibration with the Aeropex headphones. From what I have read that was a negative of previous incarnations that as soon as you turned the volume up, they vibrated against your head and it wasn't a pleasurable experience.
Whilst the vibration is there when you wind them up, I don't find it bothers me at all. For me its more of a slight tingle on the temple area. Again, I don't have experience with the previous models so I can not do a direct comparison here.
Overall the listening experience is a positive one in my opinion. I listen to a lot of music. I almost always run with music. However, I am not a fan of listening to music whilst cycling as I treat every other person on the road like they could kill me.
Even though it is an excellent experience using these whilst cycling, my preference is not to use them whilst cycling. Mainly due to all my rides being on the open roads. If I had cycle paths or trails to ride, then I would probably use them more whilst cycling.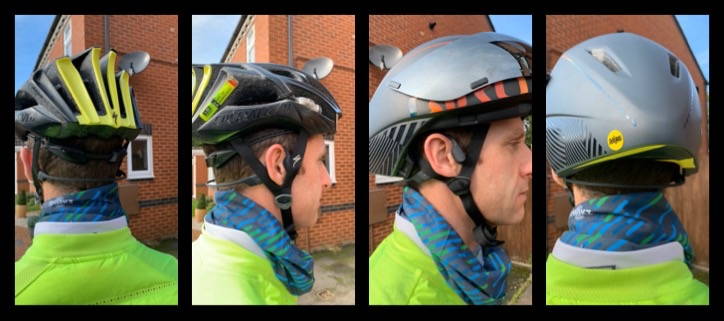 Generally, I have stuck to using these on the turbo trainer. With the noise of my turbo (Elite Drivo or a Tacx Flow), tv on and a fan, the sound through the Aeropex is still crisp and clear. This is with the volume set to between 50-75% and I can also hold a conversation with someone all whilst listening to music.
If you wear earplugs, the sound quality improves and I would say on par with regular in-ear headphones. Bass increases and all the harmonies are clear and crisp.
I listen to a wide variety of genres but tend to stick to dance/hard house/trance/hardcore/Rap whilst training. The sound quality is good; punchy bass (when using the earplugs), the bass is more of a crisp less punchy quality when earplugs are not used. Vocals are crisp and clear and the high frequencies aren't too high i.e. not sharp, but perfectly balanced with the rest of the sound.
Once you go outside and have the influence of traffic/road works/grass cutters/leaf blowers etc the dynamics are changed, I feel I had to run with the volume at a minimum of 75% to get the same sound experience as I did indoors. This doesn't distract from the point of using bone conduction headphones from a safety view. I was still more than aware of my surroundings and could hear bicycle bells ringing, and other potential dangers on the roads/paths.
The only time I couldn't hear the music was when I was running over a very busy A-road dual carriageway/motorway bridge. Equally running on the paths that run parallel (less than 20 meters) to these busy kinds of roads where the traffic noise was too loud. With this increase in the volume required (more towards the 90%+) there is a slight vibration sensation present. However, for me, it doesn't ruin any of the enjoyment of using these headphones.
As the battery life runs down, it seems that the volume reduces slightly too. I am not sure if this a feature to try and save battery or not, but I had to keep increasing the volume slightly when I was close to the low battery notice. No biggie but something I will keep track of the more I use the Aeropex. 
These are fully waterproof with a rating of IP67 which is perfect for training in a high sweaty/moisture environment. After using these they have been soaked in sweat and rain repeatedly. The Aeropex haven't missed a beat and giving them a quick wipe down after every use to return them looking as good as the day they were unboxed. 
Using the Aeropex for phonecalls
This is where the headphones drop in quality. The positive button press method of answering calls or making a call was fine with no issues when re-dialing the last number or answering a call. However, I found that I had to be in an almost silent environment to be able to have a conversation on my mobile phone (I-phone 10XR).
In this environment, the headphones were good enough to converse but occasionally cut out for a few seconds. Meaning I had to ask the caller to repeat what they had just said. Now, this could well be down to the phone signal, but it was a frequent occurrence, unfortunately. I also found I had to really concentrate on what the caller was saying.

 Outdoors, this wasn't a great experience. It was far too difficult to hear what was being said with the hustle and bustle of the outdoors. On maximum volume, which I had to have it on to hear the caller, the vibration was too much. It made me want to end the conversation and return to the old-school holding the handset for a call.
Therefore, I can't recommend using these as a hands-free calling option, unfortunately. One final note on taking calls. When the call ended and I returned to listening to music, the volume seemed to be less than when it was prior to taking the call, weird.  
Multi-pairing Bluetooth mode
Having two devices that I like to connect to, my phone and MacBook air. There is a multi-pairing mode where I connected to both sources for a seamless transition between the two without needing to re-pair each time.
Easy to use. Just enter pairing mode and pair with the first device. Then when I wanted to connect to the second device, enter pairing mode again and select the headphones on the second device. This enabled me to switch around as I pleased just by selecting the headphones in my Bluetooth list on each device.
Sound Equaliser facilities 
-When using earplugs (supplied or your own) to provide noise isolation. Let's say when I was in a noisy gym or on the train, I adjusted the EQ effects to increase or decrease the Bass frequencies. There is a noticeable difference between 'bassy' and 'non-bassy'.
However, it is only noticeable with the earplugs in though. Having tried it without them and there is very little difference except for a (very) slight change in 'tininess' between the two. I prefer the 'bassy' EQ in both instances of using and not using the earplugs. To do this all I had to do was press and hold both volume up and volume down together when the music was playing, and Audrey told me the EQ had changed.
Summary of review of the AfterShokz Aeropex
"After using these for around 6 weeks I have, overall, had a great experience using them. "
Jason –Trivelo Expert Test Associate
The sound quality is very good considering how they transmit the music into your ears. In my opinion, if you want a pure high-end musical experience you wouldn't look towards the sports/cycling/running headphones range. So if you are looking for a pair to use with sports then you need to be aware that you will have to compromise slightly in terms of sound quality to have the other benefits of sports headphones. Waterproof, robustness and in the case of the Aeropex safety.
The sound lows were crisp and punchy. Vocals crisp and clear and the highs not too sharp that results in a great balanced sound stage to any type of genre played through them. They do sound far better when wearing earplugs. However, this defeats the object of being aware of your surroundings so this way should be saved for when they are used when chilling out at home, in the gym, on the turbo or on a train/airplane.
They held secure and I would say impossible to shift whilst running and cycling unless something extreme happened. Zero bounce and I hardly noticed that I was wearing them. The wet charging point warning is a great idea to stop you damaging the internals too, something that I have done with several pairs of headphones in the past.
My last two pairs(Jaybird X4) only lasting 4 months before they stopped working due to moisture ingress. The build quality of the Aeropex is outstanding. A true quality feels about them and I believe they are more than up to the job of living with me as a user. 
"The AfterShokz Aeropex is now my go-to headphones for training"
Jason –from his YouTube video review of the headphones
Negatives from the review
The only negative aspect I found was using these in a noisy environment for calls. However, this would not stop me recommending using the Aeropex headphones for all but the purists out there who probably wouldn't want to use them for sports. 
I would like to thank the team at Trivelo for teeing up this AfterShokz headphones review and the team at AfterShokz for sending me a pair of Aeropex to use and review.
AfterShokz provided me with a single pair of Aeropex headphones to review and at the end of the 6-week review period culminating in me supplying this review for their own use, AfterShokz has kindly let me keep them free of charge. This has in no way swayed my review and everything in this review has been my own thoughts and experiences.
                                                                                                     Read more...
Hear what Jason had to say & see the headphones in action in his YouTube video of the AfterShokz Aeropex headphones.
Youtube Video
You may also like: