We sent triathlete and blogger iwiltri a pair of AfterShokz Xtrainerz waterproof Mp3 player  for review. Here is his experience of using AfterShokz Xtrainerz for swimming, running and cycling and his advice on how to use sport Mp3 headphones while training for triathlon.
Aftershokz kindly sent me a pair of Xtrainerz headphones with a built in mp3 player for a test and feedback session. These are AfterShokz' first bone-conduction headphones designed for swimmers, they allow you to listen to music during swim sessions in the pool or in open water.
Basically, Xtrainerz operates like an mp3 reader: just upload your music and play. No phone is needed for streaming music. You can exercise free of the device and be open and light. For swimming, they are smaller and lighter than other products in the market, making swimming easier.
AfterShokz Xtrainerz waterproof mp3 player review - unboxing
I received a box with the Xtrainerz containing a cool towel in a can, a swim hat, and an Aftershokz pin. The Xtrainerz mp3 player comes with a pouch for transportation and protection which is very handy and importantly waterproof, along with the USB-charger.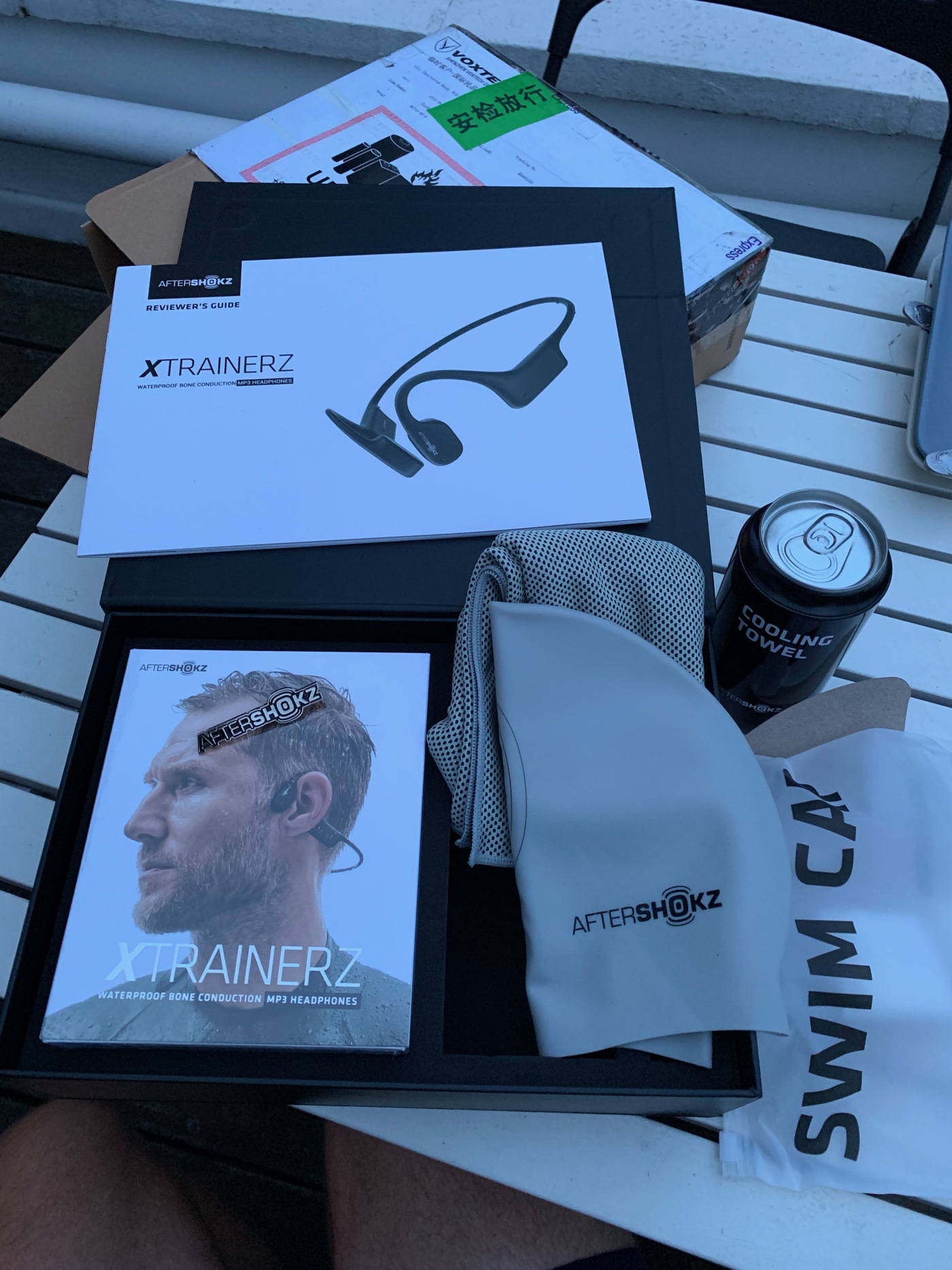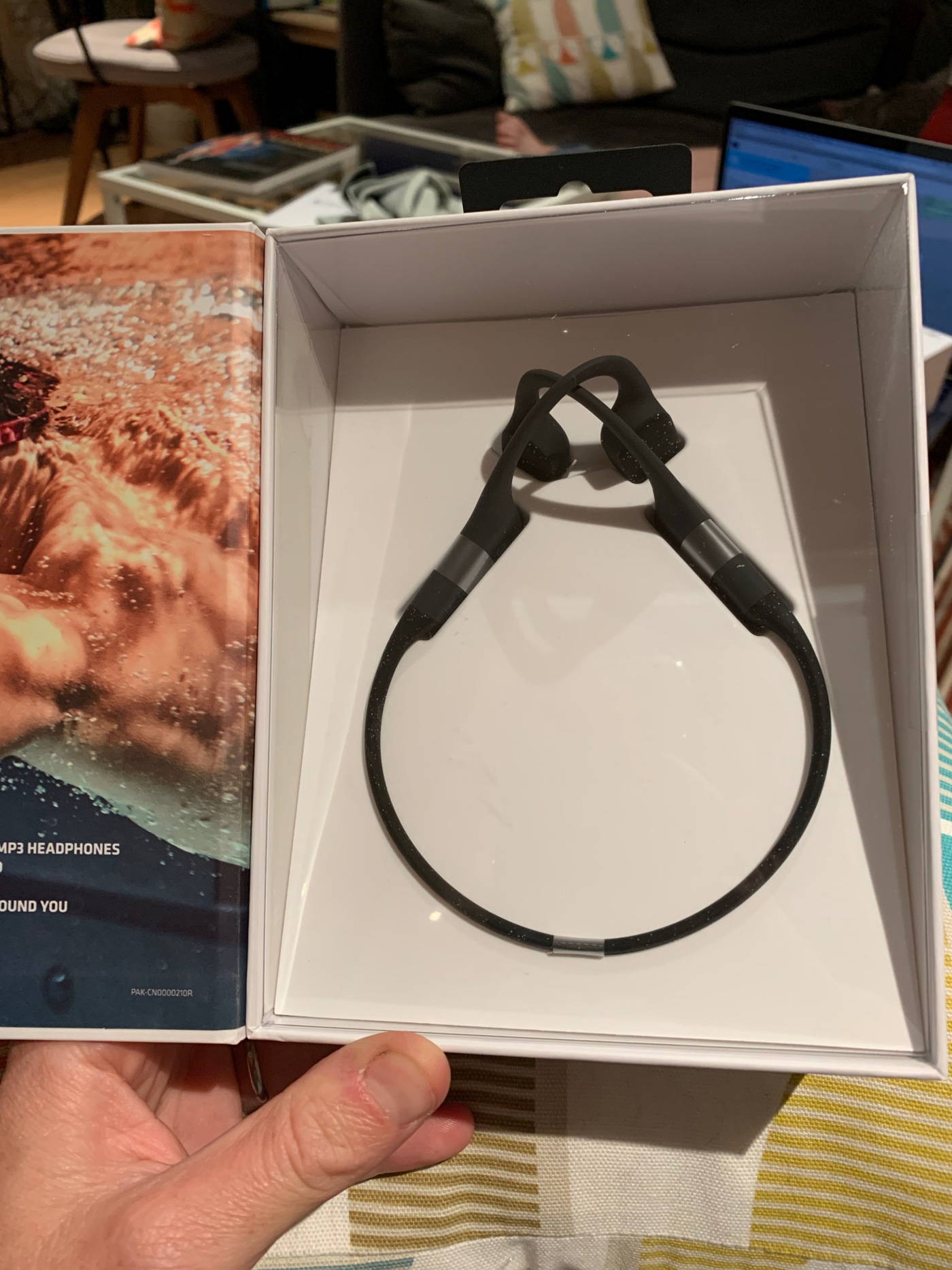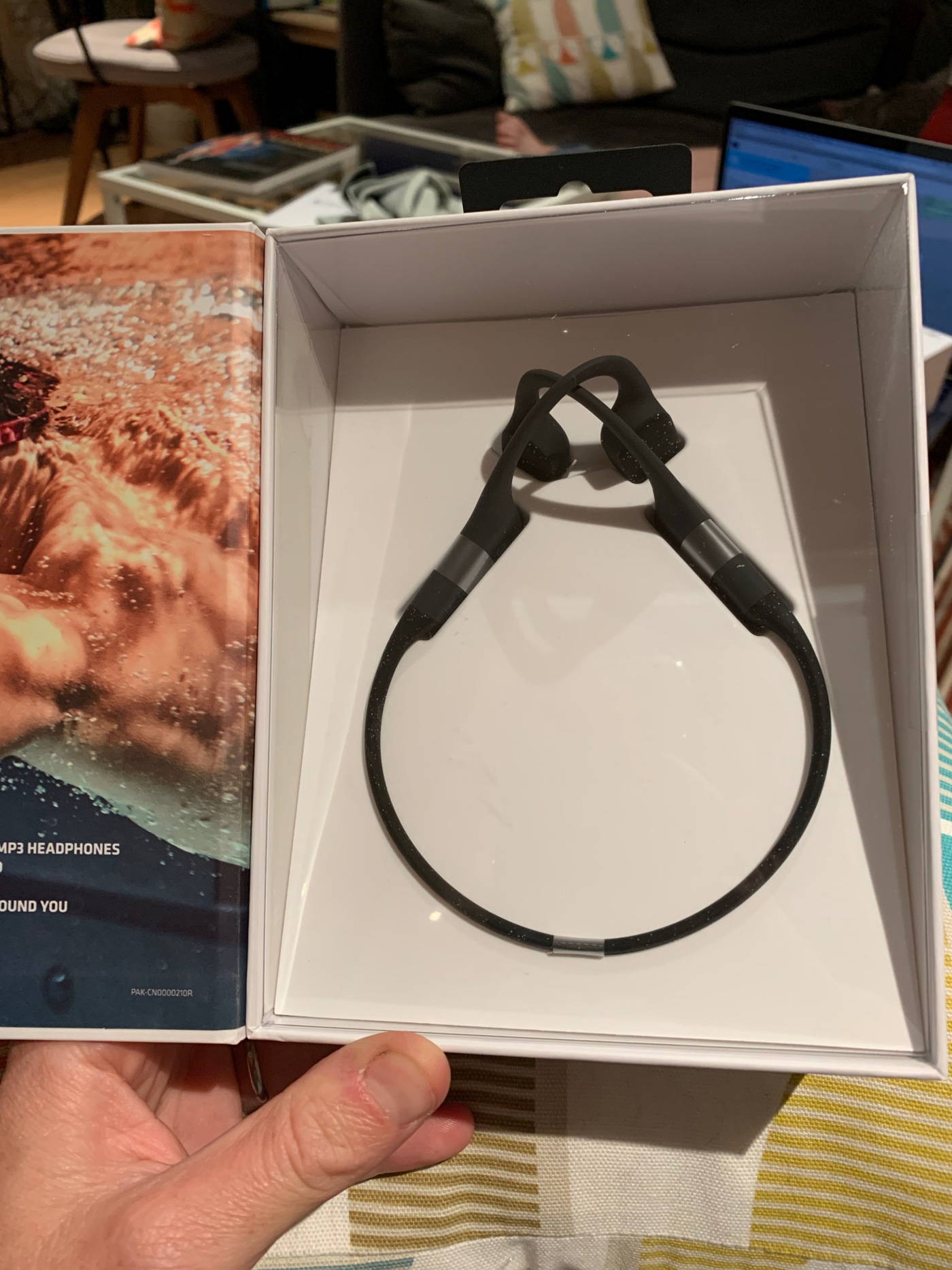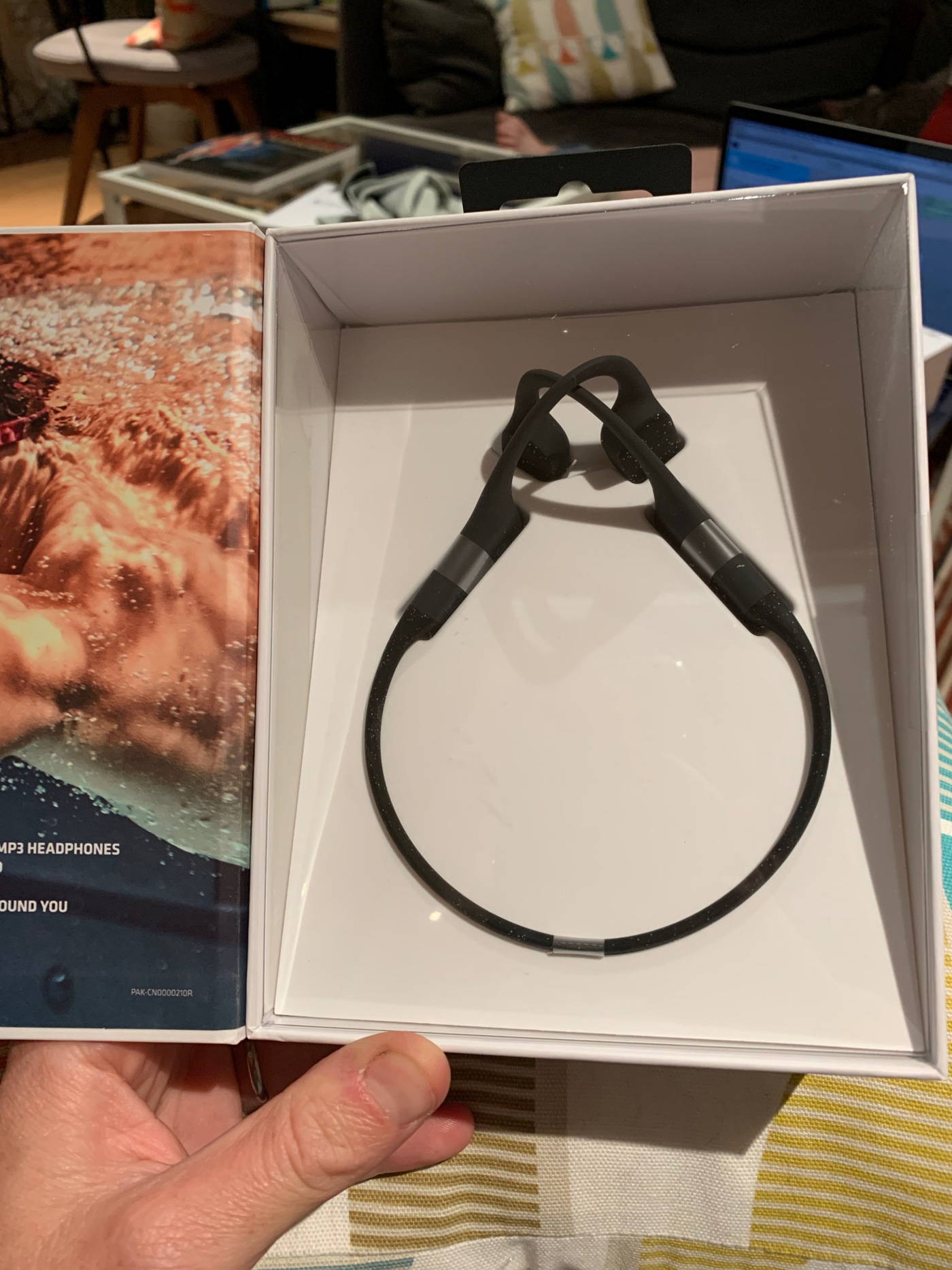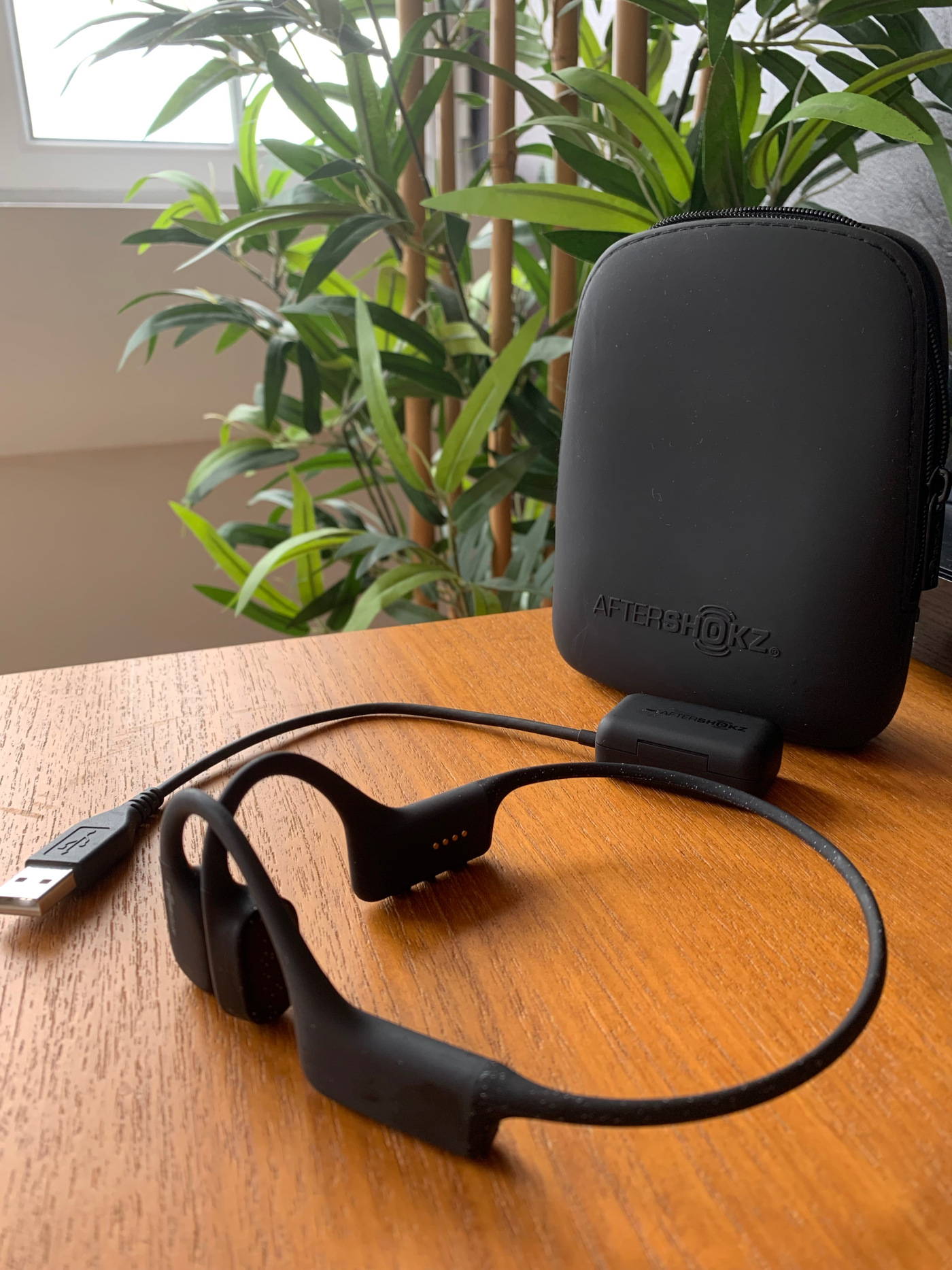 Waterproof Mp3 player with bone conduction technology
Xtrainerz use bone conduction technology that generates vibrations which travel through the cheekbones to your inner ear, bypassing the eardrums. Therefore, there is nothing between your ears and the outside world. This open ear design gives two benefits, you can hear music and hear what's going on around you, which is very valuable when cycling and running out of doors. I was very surprised by the sound quality 😊, especially underwater.
While cycling and running in a quiet environment, sound quality is very good. It was a bit more complicated in busy streets to get the sound level correct, but by adjusting the volume accordingly it can be achieved and open-ear design helps you hear the traffic around you.
How to use waterproof Mp3 player
I used the Xtrainerz in all three training environments I use when preparing for triathlon. Having one set of headphones capable of doing all three disciplines makes these the best triathlon headphones. I'll take you through how they work and how to use them when swimming, cycling and running.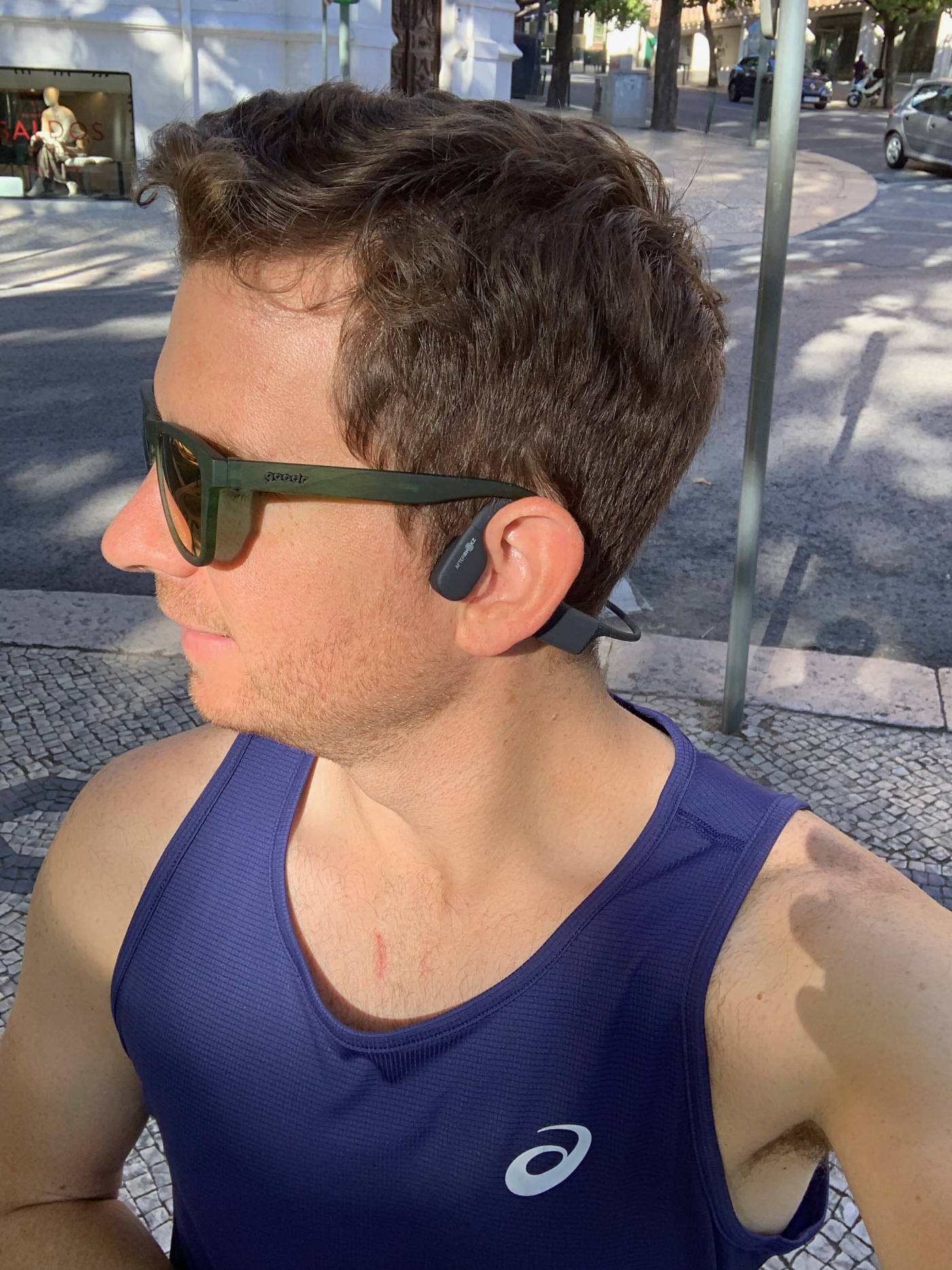 Waterproof Mp3 player - the swimming test
I took the Xtrainerz for two swims: one in open water in Poland for a practice swim in the Baltic Sea before the Half-Ironman and another in the pool for an easy recovery swim. I have to say that they don't disappoint underwater - the sound quality is amazing!
It's like you have stereo sound coming from the water and you can get really immersed in the sound! I was very pleasantly surprised by this, I was also still able to hear the water and the waves smashing my head. I could listen to my music but still be very focussed on what was going on around me, useful as I needed to avoid all the jellyfish!
In the pool they have the same sound quality and they don't move, however much your head does. I tumble-turn, so I was a bit worried that the Xtrainerz would not follow my turn properly and move on my head, but they didn't! I didn't feel them during my swims, except when practicing crocodile sight, as the back of the neck touches the earphones, but nothing to worry about.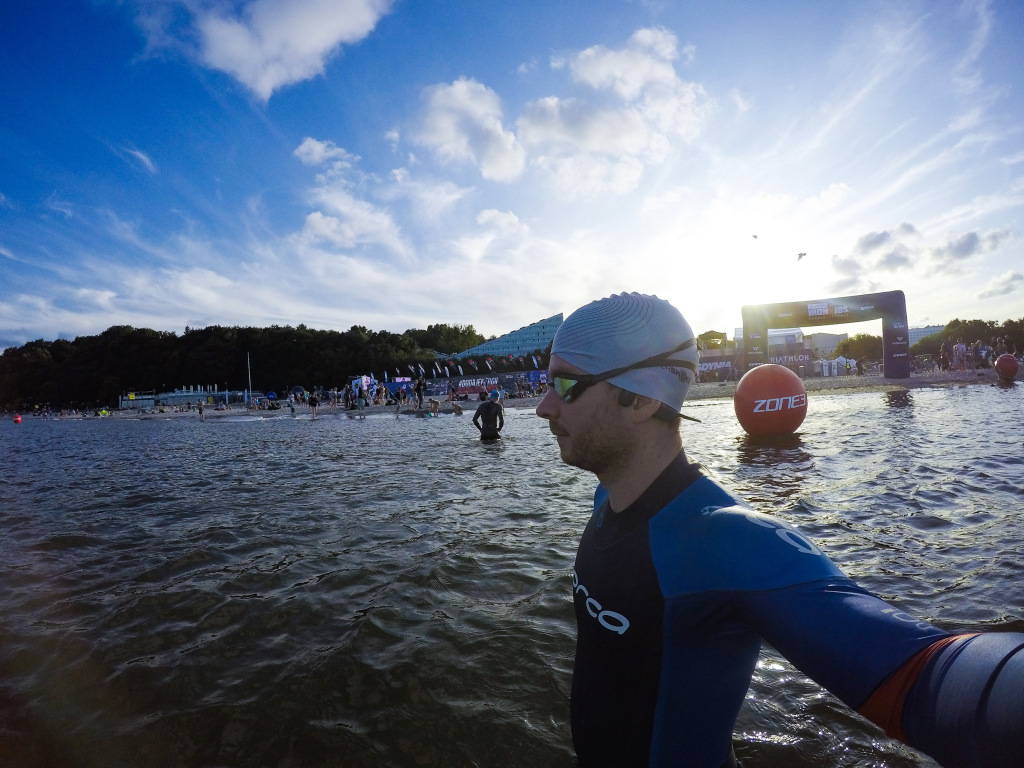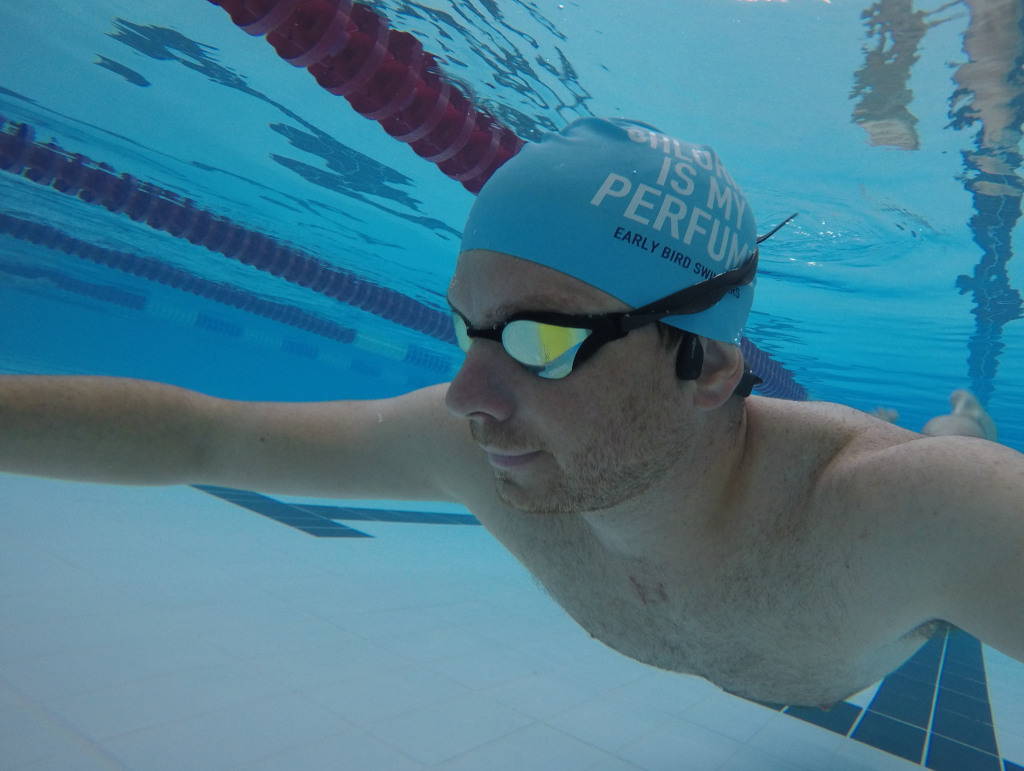 Waterproof Mp3 player - the cycling test
I tested the Xtrainerz on the road and also on the turbo at home. My first test on the road was surprising as I quickly forgot I had earphones on but I kept hearing the music. This was quite cool. It was raining during the test, and they didn't move with the rain or the wind, a great result.
Obviously, the sound quality is affected by the wind and traffic around, but this is on purpose. Open-ear headphones give the advantage of being aware of your surroundings and listening to some music in the background at the same time.
I also wanted to try them on them during a sweaty turbo session. I usually blast music from my speakers because my usual earphones slide with sweat and the cable always tangles up on the bike. However, the loud music can be annoying for my wife or neighbours when I am on my terrace.
With AfterShokz wireless bone-conduction headphones I have the music, and I can still hear the sound from Zwift to pace myself, plus keep a good relationship with my neighbours and wife while enjoying my sweat fest!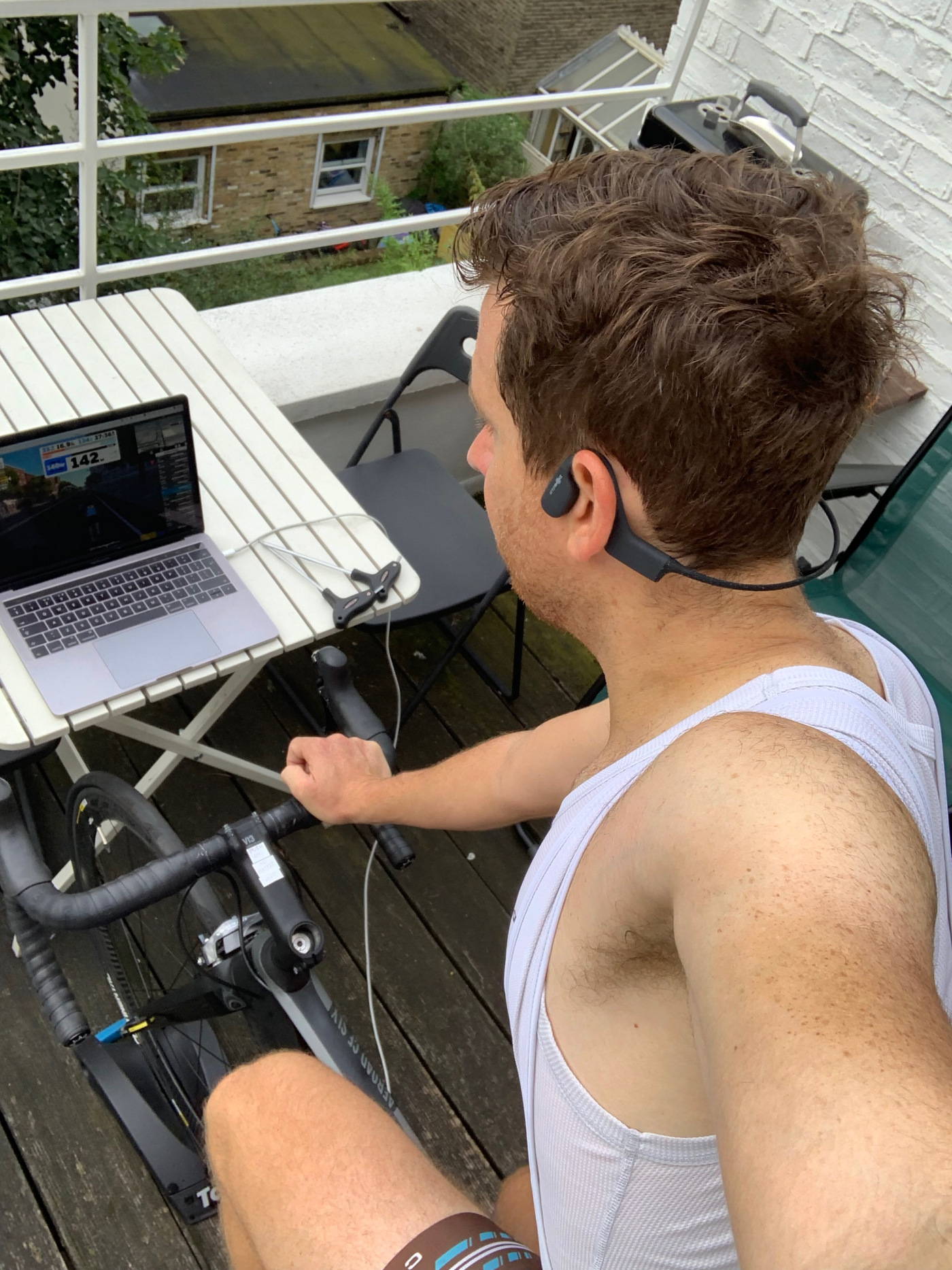 Waterproof Mp3 player - the running test
I took them on two outdoor runs exploring Lisbon. When running outside, I really like hearing the sounds around me, I usually run early in the morning and find the sounds of the city waking up at sunrise fascinating. So, having open-ear earphones can satisfy my needs.
The music quality is very good, but this depends on your surroundings and the wind. This is more than enough for me, as I am not really focusing on the music while I am running! The great thing is that I can listen to my breathing and my steps, which is absolutely necessary if I want to monitor my fitness during my exercises.
They might be a bit heavy on the ears for long runs, but maybe it's because I am not used to them yet. They weigh only 30grammes, so not much, but I'd be curious to compare them with the Aeropex which are specifically designed for running and weigh only 24 grams.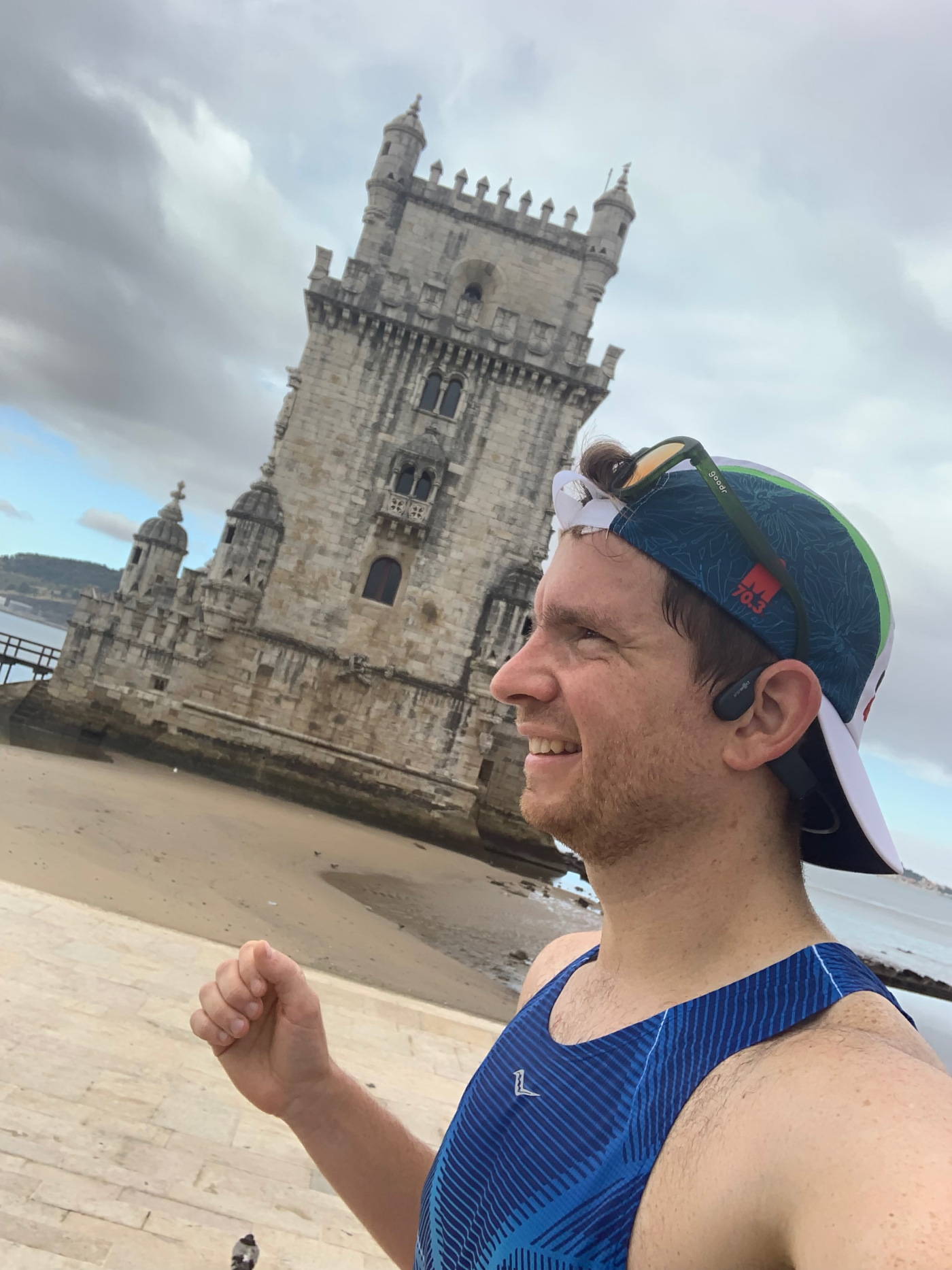 Xtrainerz Waterproof Mp3 Headphones Review - the final verdict
They don't move! Whether it's running outside, swimming in the pool with tumble turns or on a bike with tons of sweat, they don't move! As a heavy sweater, I usually lose my earphones after a few minutes or need to adjust them every so often. They also don't hurt the inner ear and are fully compatible with a swim cap, goggles, earplugs, hat, sunglasses, helmet and all the equipment I take with me when training for my triathlons. 
Great sound quality underwater: I am not kidding, I was very impressed both in an open water environment and in the pool. Once the correct position has been found with my swim cap, that was a blast! Music is louder, clearer and I can still hear my own waves and inner thoughts. They are IP68 waterproof, so you can dive with it up to 2 meters and stay in the water for 2 hours and sweat heavily without any fear; 
As a sport mp3 player it has 4GB of memory to carry hundreds of songs and podcasts! The only downside is if you don't own digital music, if you use AfterShokz Xtrainerz and Spotify or Deezer, you will need to get music from another source. If you are wondering how to upload and swap music on Xtrainerz, it's simple. Put your Xtrainerz into their charging cradle, plug the USB into your computer and then drag and drop your audio files into the Xtrainerz drive.
AfterShokz Xtrainerz have 8 hours of battery life - enough for even the longest training day. During this Xtrainerz review I have swam, ran and biked with it all week long and not charged it once .
Ready to up your triathlon training game? BUY AfterShokz Xtrainerz waterproof headphones today.