At AfterShokz cycling is our passion, and although we may live for outdoor riding with the warm sun on our backs, this is often not an option given the weather or indeed, as a result of global events like the Covid-19 pandemic. There's no doubt that your health and fitness are better off riding than sitting on the sofa, so to get excited about indoor training we've pulled together some top tips including how bone conduction cycling headphones can make your sessions a lot more interesting!
AfterShokz cycling headphones for indoor cycling workout
You might want to have your music pumping out while on the turbo trainer if other people in your house are relaxing or even working from home that might not go down so well! Wearing headphones to listen to music means you can enjoy your tunes without disturbing anyone else.
AfterShokz bone conduction headphones for cycling are designed to be open-ear. Sound vibrations are transmitted along your cheekbones, instead of through the air, bypassing your ear canal and transmitting sound directly to your inner ear. This means you need nothing on or in your ears to listen to music with great sound quality. The open-ear design means you can hear the environment around you so the people who live with you can still get your attention without shouting and you won't miss a delivery because you didn't hear the doorbell!
If you tend to get very sweaty cycling indoors the open-ear design means that you are less likely to have problems with ear-buds slipping out or getting an ear-infection from headphone use. Our flagship sports headphones Aeropex have an IP67 waterproof rating - not only can they cope with heavy sweat you can wear them in the shower after your workout!
Make the most of your indoor cycling workout
1. Make the space comfortable
The same way you'd set your bike up to ride outside, set your indoor space to be functional, comfortable and enjoyable.
This includes not just your bike and indoor trainer, but some of the key accessories. If you have any old phone books (or large volume books), you can use these to stimulate your climbing position on the bike by raising the front wheel higher.
A fan will help, or position the bike in front of an open window. Modes of entertainment are key: whether this is a laptop, a TV screen, a stereo, AfterShokz headphones, your iPod, a smartphone… Anything that can help keep you motivated and moving.
Time tends to slow down a bit when riding indoors so anything that can help pass the time is a great tool to use, for this we love podcasts and music! Make use of virtual platforms such as Zwift to turn the training session into a game.
A bar stool helps so you can place your phone, water bottle, and remote within reach. A towel on the handlebars is a quick-dry way to mop up all that sweat (or tears), and keep the floor from becoming a mini lake. Remember to try and create as much space as possible to lessen any feelings of claustrophobia.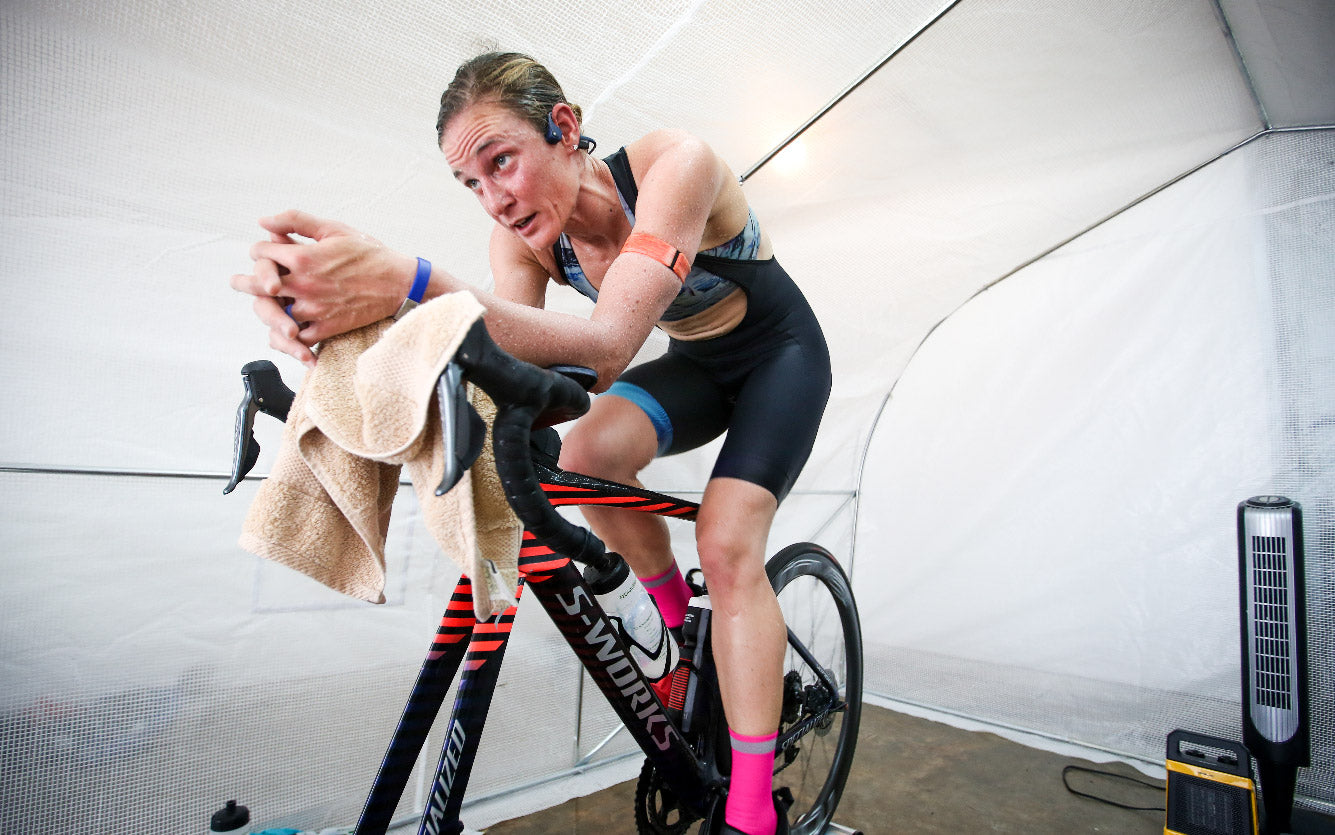 2. Have a goal in mind
When it gets to the actual pedalling part, having a goal to work towards can be really helpful. This could be simply improving your FTP (functional threshold power) or be a time/distance-based goal. There are plenty of online races if you're seeking a competitive edge against others! Set the goal, and then establish the training plan to get you there.
Having a weekly plan takes the temptation away from missing a session or two and then falling off the wagon completely. Include how many days per week you want to train, how long you want a session to last, and what kind of ride you intend to do (e.g. high-intensity intervals, recovery). Setting when you're going to ride also creates routine and makes it more likely for you to stay committed.
3. Wear the right gear
What you wear when cycling indoors can make or break a ride the same as if you were headed out on the road and not dressed for the occasion. Lightweight clothing with good moisture management is a must and indoor specific clothing, whilst an additional expense, can make a session more comfortable Pedalling on a stationary bike can take a toll on your backside, so be sure to wear a decent pair of padded bib shorts and apply chamois cream to prevent chafing.
Some people prefer just to wear base layers but if you want to look and feel good an indoor cycling jersey of the lightest possible fabric is the way to go - these from Le Col were designed along with Wahoo so are perfect for your sweatiest indoor sessions.
4. Choose the right cycling headphones
If you want to be sure of not being disturbed check out our completely waterproof MP3 player Xtrainerz, if you are cycling for triathlon they are great choice because you can swim, run and bike with them! If you prefer to stream your music with a Bluetooth connection then for sport Aeropex is the best choice of wireless cycling headphones for you. Find out more on our blog Aeropex vs. Xtrainerz.
Pick Your Cycling Headphones for indoor cycling workout
Remember to embrace sessions as they happen: sometimes you'll  hammer out the tunes and be a sweaty mess by the end, and other times you may just want to jump on the bike for an easy spin and binge-watch your new favorite Netflix show.
However you train cycling headphones can play a part in your session. Whether you choose Xtrainerz so you can swim, bike and run in the same headphones, or Aeropex so you can stream your favourite music or bone-conduction headset OpenComm so you can chat and pedal on Zwift we guarantee that cycling headphones will improve your indoor workout. It won't be any easier- but it will be a lot more fun!
---
You may also like:
What are your tips for indoor cycling? Hit us up on Facebook, Instagram, and Twitter —or leave comments below, we will get them for you!