WHAT IS BONE CONDUCTION AND HOW DOES IT WORK?
Our ears are made up of three parts; the outer ear, middle ear and inner ear. Together they form a complex system of passages, small bones that vibrate and nerves, all working together to enable us to hear and interpret sounds.
When we listen to music, or hear someone speak, the sound vibrations travel through the air to enter our ear canal and vibrate against our ear drum. Our inner ear then turns them into electrical impulses and transmits them to our brain where they are processed.
However, when using bone conduction technology vibrations are transmitted along your cheekbones, instead through the air and into your ear canal. Vibrations bypass your eardrum and are transmitted directly to the inner ear, leaving your outer ears open. The vibrations are processed in exactly the same way by your inner ear and brain so there is no change to the sound quality.
DO BONE CONDUCTING HEADPHONES WORK UNDERWATER??
Open-ear bone conduction technology sports headphones have a huge number of benefits, especially for running and cycling. Bone conduction headphones allow you to listen to your choice of sounds through your headphones, wirelessly using Bluetooth, whilst still being able to hear the environment around you.
But it doesn't stop there, with our premium waterproof wireless earphones, the Swim, you can also listen to your music underwater. AfterShokz Swim have anIP68 rating,meaning you can use them underwater at a depth of two metres, for up to two hours, making them the best waterproof headphones for swimming.
Every pair is rigorously tested on our assembly line at 50-atmospheres of pressure, to ensure every set of waterproof headphones works perfectly.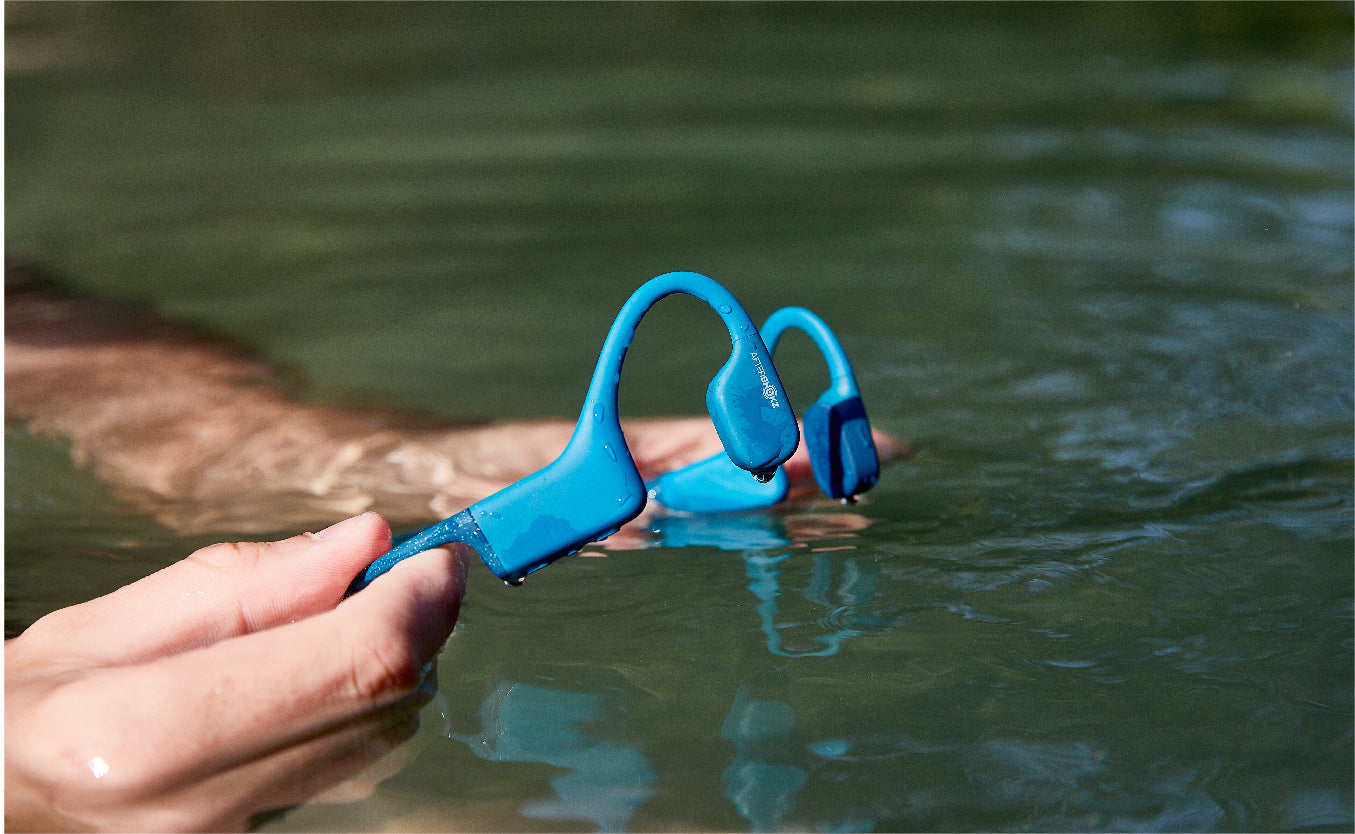 SO, HOW DO BONE CONDUCTING HEADPHONES BENEFIT SWIMMERS?
Listening to music or podcasts whilst you are swimming adds another layer of enjoyment to your underwater experience. It can help pass the time during long endurance sets in the pool or allow you to listen to your favourite tunes while you surf or wild swim.
We know that buying wireless headphones is an investment so you need to know that the technology works and the product you are buying is reliable and long-lasting. We've tackled some of the most frequently asked questions about waterproof bone conduction headphones.
1. Amazing sound quality even underwater
You may think playing music underwater won't sound great but with bone conduction technology the sound quality actually improves! Sound vibrations are transmitted along your cheekbones, straight to your inner ear, bypassing your eardrum and removing the sound distortion that water normally causes.(National institute of health of the U.S.)
This is bone conducted audio in its natural environment; underwater. Swim are equipped with the new generation of BCT with PremiumPitch 2.0TM. Once underwater,  you'll be fully immersed in a complete audio experience. With an IP rating you can trust you know that your headphones are as happy underwater as you are.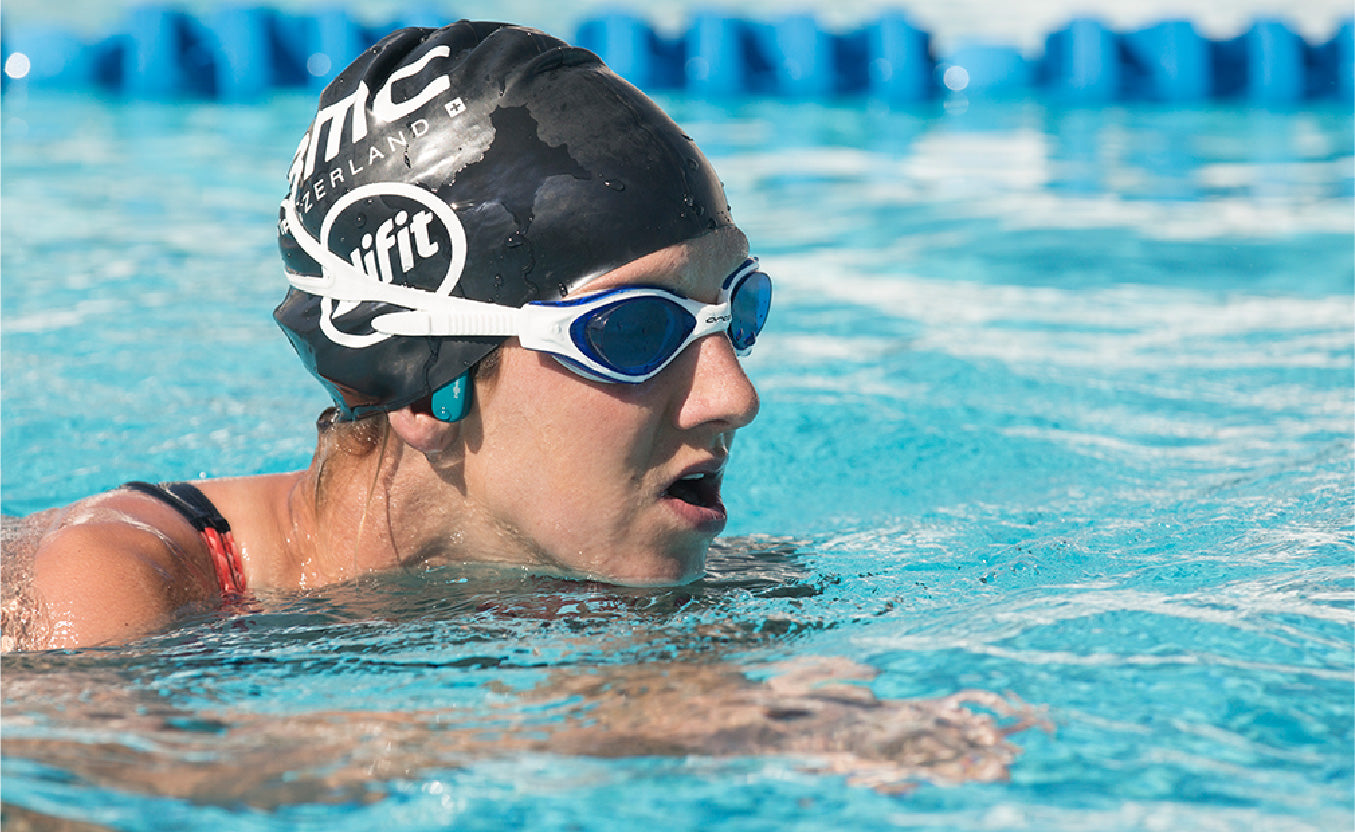 2. Stability and comfort - our open-ear design is award-winning!
Stability and comfort are key when it comes to wearing swimming headphones for a long period of time.The last thing you need when you should be focusing on your training is the worry that an earbud might fall out or your headphones get lost. Our open-ear headphones, with their wrap-around titanium band, remain in place however much you move.
3. Avoid ear pain and swimmer's ear
Ear infections can be a huge challenge for swimmers. Water left in your outer ear canal for a long time creates a humid environment for bacteria to grow. This can be worsened by using in-ear headphones, which traps the water within the ear.
Commonly called "swimmers ear", ear infections can be really irritating, and if left untreated can lead to hearing loss. Symptoms include pain when the outer ear is tugged, itchiness inside your ear, a leaky ear or redness and swelling.(Center of disease control and prevention)
Swim are hygienic headphones and offer a powerful solution to help avoid ear infections and ear pain. Bone conduction technology enables you to listen to your music without having to stuff your ear canal with earbuds or cover your ears with headphones. You can even listen to your music whilst using earplugs to prevent any water getting in if that is your preference.
If you are looking to transform your next swimming session with wireless waterproof headphones head to https://aftershokz.co.au/products/Swim to purchase your AfterShokz Swim bone conduction headphones.